Sunday 19th Feb, 2012 - ASM-Marine Frostbite League @Kinsale Yacht Club.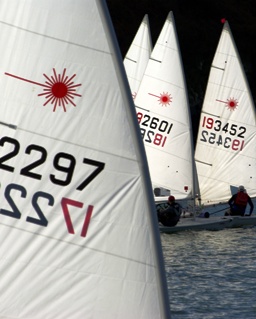 Variable light winds were again the dominating feature of the ASM-Marine Frostbite League at Kinsale Yacht club which moved into the fifth and penultimate week of the series last Sunday. Despite the loss of two days racing so far, the Race Committee has successfully managed to keep the programme on course with the addition of extra races when possible.
Competitors were presented with arguably the most difficult set of conditions of the series so far as a NW Force 2 constantly veered and backed in strength and direction throughout the course on each race, finally backing further to the West. As conditions were markedly different at each rounding mark and as the wind pressure shifted unpredictably, positions within each fleet were inevitably on the move too, making for a fascinating series of races which would have an impact on the overall standings for some competitors.
Against this back-drop and with a flooding tide crossing the course, racing got under way on time at 12.00 with a combined start for the Laser 4.7, Radial and Standard Classes.
Outstanding performance of the day goes to Laser Standard sailor James Long (ISKC) who scored four straight wins in all races. Previously in third place on thirteen points behind leader Ronan Kenneally (MBSC), his performance now puts him just six points behind. Ronan, with seven straight wins previously to his credit untypically scored two thirds, a second and an eighth. Robert Howe (MBSC) due to two DNC's recorded as not competing on Sunday, slips to third place overall and may have too much to do to regain second. Edward Rice (RCYC) scored a well-earned two seconds and a fourth.
New entrant Colm O'Regan (KYC) made an immediate and impressive impact in the Radial Class as he followed a second place in the first race with an excellent three straight wins. However, with two discards already applied and a maximum possible third to come on the final day, it appears Colum's effect on the outcome is ultimately limited. The top of the Radial table continues to be a moveable feast as Eoin Cotter (KYC) maintaining his consistent form with a further two fourths and two thirds finds himself up two places and in the lead by ten points overall. Previous leader Seafra Guilfoyle (RCYC) not racing this week drops one place to second overall but remains very much in contention. Darragh O'Sullivan (KYC) though carrying two DNC's from last week returned with a first, two seconds and a fourth which moved him up two places into third overall. Dermot Lyden (RCYC/BSC) recorded an excellent second and two thirds.
Cian Byrne (RCYC) retains his lead at the top of the Laser 4.7 Class by a comfortable eight points due to two first places in the first and last races, despite scoring a further third and fourth which he can now discard. Still hot on his heels is Kinsale's Ross O'Sullivan who despite a untypical tenth in the third race which he can also discard, with a second, third and fourth is now eight points behind overall. Sorcha Ni Shuilleabhain's (KYC) also retained her overall position of third, but critically moved closer to that second position with an excellent return of a first and two seconds. Cliodhna O'Regan (KYC) with the second best performance in this class, moved closer to the third spot with a first, a second and two thirds just three points adrift overall.
In the face of stiff opposition against improving and determined competition on a day of difficult sailing conditions, James and Bruce Mathews (KYC) in Mucky Duck commendably managed to extend their lead at the top of the Squib fleet. Though changing positions were a feature throughout the day, the Mathew's father and son team came out on top with a first, a second, a first and finally a second. However strong challenges were offered by Marcus and Meagan Hutchinson (KYC) in Sensation during the first two races, and an improving Colm Dunne and Mark Buckley (KYC) in Yacht Services in the last two, both crews recording a win and a second. Despite an OCS in the third race requiring a restart, Sensation came back to score an excellent fourth, but a further fourth in the last race has left them on equal points overall with Yacht Services and ten points behind the leader.
Next Sunday 26th, February will see the completion of this year's ASM Frostbites at KYC. F.G. @ 12.00